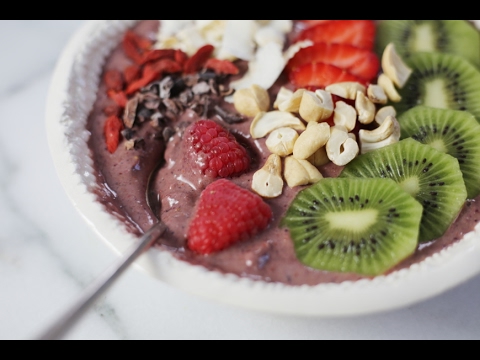 Find the full recipe at:
This sweet and creamy smoothie bowl is brimming with nutritional "superfoods," including raw cacao powder, goji berries, seeds, nut butter and berries. It's my go-to breakfast when I need to recharge or reboot, and it's my foolproof way of slipping serious nutrition into my kids (because, spoiler alert, eating a smoothie bowl FEELS LIKE YOU'RE EATING ICE CREAM FOR BREAKFAST!). (Plus: new video below!)
I've always been one to eat my smoothies with a spoon (which you can read all about in my Blueberry Spinach Smoothie Bowl post). Ever since I got a Vitamix several years ago, I've been hooked on making ultra-thick, soft-serve style smoothies and fruit based "ice creams," either for breakfast, as after-school snacks or for dessert after dinner. They're sweet and delicious and are pumped up with fruits and vegetables with no added sweeteners. Juni is especially obsessed at the moment and yells "SMOOOOOOTIE!! SMOOOOOOTIE!!" every time I pull out the Vitamix. (This is her expression after taking a big bite of this superfood smoothie bowl—and yes, she's as mischievous as she looks.)
I spent the second half of January traveling for work, with two red eye flights from California to New York. The first thing I did after arriving home those mornings, barely coherent after an overnight flight and an hour-and-a-half drive from JFK, was to make a giant smoothie bowl. All I wanted—make that all I needed—was something refreshing and FRESH, to counterbalance all the salty airport food and stale airplane air I had just consumed. Smoothies are the fastest and easiest way to pack in a load of nutrition—they're like a supercharger for your system.
This superfood smoothie bowl, which is featured in my Craftsy class, is one of my favorites. It's brimming with powerhouse ingredients, including: wild berries (antioxidant superstars), goji berries (which have the highest concentration of protein of any fruit and are also high in Vitamin C), raw cacao powder (high in magnesium and iron, but who cares because it tastes like chocolate), nut butter (healthy fats and protein) and hemp, chia or flax seeds (high in fiber and omega-3 fatty acids). Frozen bananas give it a creamy and thick texture without the need for ice. (Tip: At the end of each week I peel any bananas that didn't get eaten and pop them into a ziptop bag that I keep in the freezer—that way I always have a stash of frozen bananas on hand.)
Now for the fun part: the smoothie gets served in bowls and can be topped with an array of items for texture (LIKE A SUNDAE!!). Fresh fruit, nuts, seeds, granola, coconut flakes and cacao nibs are all delicious (and provide added nutrition). Pow! Bang! Krunch! (Cue 1980s Superman impression.)
If you don't have a high-speed blender or if you prefer to drink your smoothie, no fear! Simply add another ¼ – ½ cup of milk to thin it out.
(smoothie, smoothie bowl, vitamix, vitamix recipes, smoothie bowl ideas, acai bowl, healthy recipes)