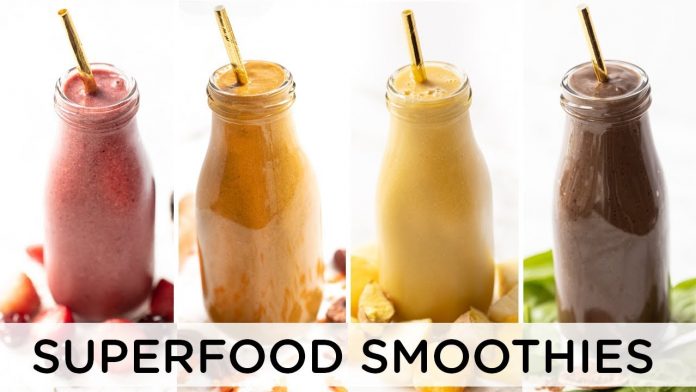 Get 40% off your order of superfoods!
Today we're making 4 amazing superfood smoothies that are perfect for fall! These smoothies are nutrient-dense, delicious and also sneak in a few veggies. Can't wait to hear which ones you make first!
★ PRODUCTS USED ★
Hydration Blend:
Honeysuckle Powder:
Pine Pollen:
Maca:
Moringa:
Energy Boost Blend:
☆ CHERRY BERRY PIE
1 cup frozen cherries
1/2 cup frozen strawberries
1 tablespoon chia seeds
1 tablespoon coconut flakes
2 tablespoons cashew butter
1 teaspoon Matcha Reserve Hydration Blend
1 cup coconut water
☆ CARROT CAKE:
☆ TROPICAL TWIST
1 cup frozen mango
1/2 cup fresh pineapple
1″ piece of fresh ginger
1 tablespoon coconut butter
1 teaspoon The Matcha Reserve Maca
1/4 teaspoon The Matcha Reserve Morigna
1 cup almond milk
☆ MOCHA
1 cup spinach
1/2 cup frozen blueberries
1/4 avocado
3 tablespoons raw cacao powder
1 scoop chocolate protein powder
1 teaspoon The Matcha Reserve Energy Boost Blend
1 cup cold brew coffee
______________________________
use code SIMPLYQUINOA and save:
3 FREE SMOOTHIES: www.daily-harvest.com
15% OFF MATCHA POWDER: www.simplyquinoa.com/matcha15
20% OFF VEGAN PROTEIN BARS: www.squareorganics.com
15% OFF ADAPTOGEN POWDERS: www.rootandbones.com
_________________________________
OTHER PLACES YOU CAN FIND ME:
WEBSITE
FACEBOOK
PINTEREST
SNAPCHAT
alyssarimmer
INSTAGRAM
@simplyquinoa
________________________
Disclaimer: I partnered with The Matcha Reserve on today's video. I was compensated to create the recipes, but as always, all opinions are my own. Thank you for supporting me and the companies that make this channel possible!