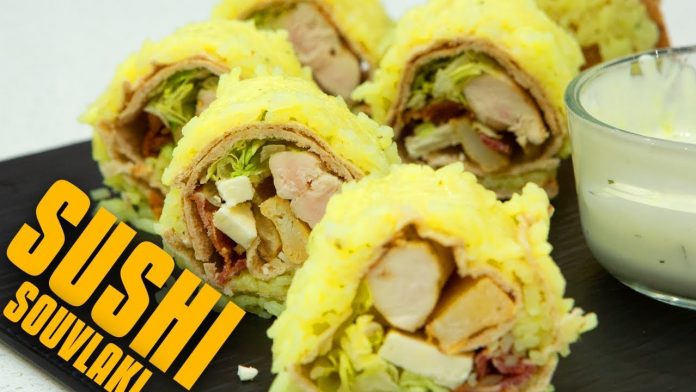 This week Chef Atari teaches you how to make this unique creation "Sushi Souvlaki"
Ingredients
1/2 Pack of frozen french fries
3 Tbsp of chicken stock
2 Cups of rice
1/2 Cup of rice vinegar
3/4 Cup sugar
1 Tsp of sat
8 Chicken filets
Chicken seasoning
3 Tbsps of Vegetable oil
1/2 Pack of bacon
6 Pitas
Shredded Lettuce
Feta cheese
Slivered Onions
1 Container tzatziki
1 Tsp wasabi
Tools
2 Small sauce pans
2 Frying pans
1 Chef knife
1 Cutting Board
Skewers
Seran wrap
1 Oven tray
Tin foil
1 Whisk
1 Pair of tongs
2 Mixing bowl
Step 1
Bake french fries in the oven at 425 degrees Fahrenheit for 15 minutes until crispy.
Step 2
Boil 2 cups of water in a small sauce pan and season with 3 Tbps of chicken stock. Add 2 cups of rice to boiling water and let cook for 6 to 8 minutes on low heat.
Step 3
Boil 1/2 a cup of rice vinegar in a small sauce pan. Add 3/4 cups of sugar, 1 Tsp of salt and stir well until sugar dissolves. Cool, then stir into the rice until fully coated. Only pour half of rice vinegar on rice add more if needed.
Step 4
Season chicken and skewer then cook in a frying on medium heat for 8 minutes until cooked.
Step 5
Cook bacon strips on a frying pan for 10 minutes until crispy.
Step 6
Lay down sticky rice on a cutting board wrapped in seran wrap. Split in half 2 pitas and place on top of rice. Add chicken, lettuce, bacon, feta, french fries and onion. Fold pita over and begin to roll with seran wrap theb Refrigerate for 30 minutes.
Step 7
Mix 2 Tbps of tzatziki with 1 Tsp of wasabi and serve with sushi.
Check out our new Jerky available in Walmart across the USA!
Check out Harley's Video Diaries –
We have a YouTubeGaming Channel:
Follow the guys!
@harleyplays @chefatari @epicgrossguy @cooldan @itsmikesantos
LIKE/FAVORITE and SHARE for new meals every week!
Sushi Souvlaki – Handle it