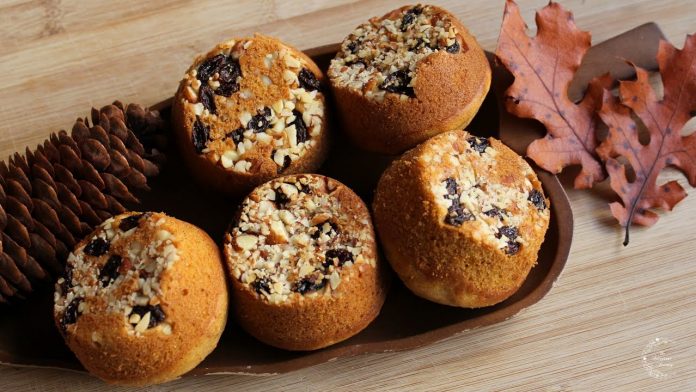 Learn how to make soft and fluffy sweet potato cakes as a dessert for Autumn.
Ingredients:
1 1/2 Cups All Purpose Flour (210g)
1 Teaspoon Cinnamon (2.8g)
1/4 Teaspoon Nutmeg (0.55g)
1/2 Teaspoon Baking Powder (2.5g)
1/2 Teaspoon Baking Soda (2.5g)
1/4 Teaspoon Salt (1.5g)
2 Eggs
3/4 Cup Sugar (143g)
1/2 Cup Vegetable Oil (120ml)
1 Teaspoon Vanilla Extract (5ml)
1 Cup Sweet Potato Puree (200g)
1/3 Cup Buttermilk (80ml)
1/3 Cup Raisins (60g)
1/3 Cup Chopped Almonds (34g)
Directions:
1. In a mixing bowl, sift together the flour, cinnamon, nutmeg, baking powder, baking soda, and salt. Set aside.
2. In a large bowl, beat the eggs and sugar at high speed until thick and pale. Add the oil and vanilla and beat only until combined. Add the sweet potatoes and beat until well combined.
3. Gradually add the dry ingredients to the sweet potato mixture alternating with the buttermilk.
4. Lightly coat a muffin tin with cooking spray. Place raisins and almonds at the bottom of each cup. Fill 3/4 full with batter. Bake in a preheated oven at 350°F for 15 minutes or until an inserted toothpick comes out clean.
5. Lightly grease a wire rack with cooking spray. While still warm, flip the pan onto the wire rack and let cool completely on the wire rack. Remove cakes from pan.
| Makes about 15 cakes.
| ↪ Connect With This Channel | ☕
Facebook –
Tumblr –
Twitter –
Instagram –
| Personal Accounts | 🌱🐈
Instagram –
Twitter –