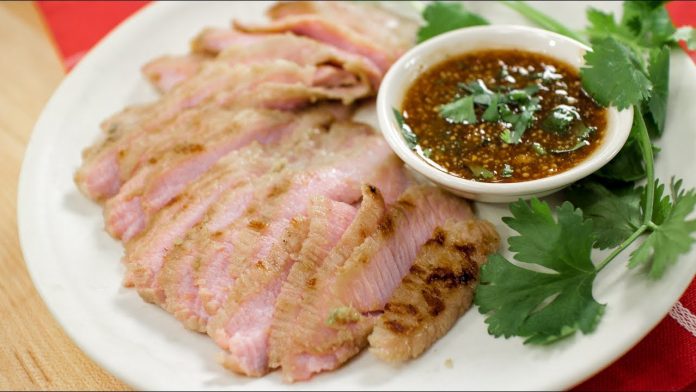 When it comes to barbecuing, this recipe is an absolute classic. Pork jowl is a cut that is greatly underappreciated in North America. It is a flat, grill-friendly piece of pork that is incredibly flavourful because of the fat that runs through the meat. In Thailand, you can find grilled pork jowl at restaurants specializing in Isaan or northeastern Thai food. Serve this with some papaya salad and sticky rice and you're in heaven!
RELATED VIDEOS YOU'LL LOVE:
BBQ Chicken w/ Nam Jim Jeaw:
How to Make Toasted Rice Powder:
WRITTEN RECIPE:
GEAR, TOOLS, INGREDIENTS I USE:
SUPPORT THE SHOW: If you love the show, check out our Patreon page!
MY COOKBOOK:
CONNECT WITH ME!
About Pai:
Pailin "Pai" Chongchitnant is the author of the Hot Thai Kitchen cookbook, co-host of a Canadian TV series One World Kitchen on Gusto TV, and creator and host of the YouTube channel Pailin's Kitchen.
Pai was born and raised in southern Thailand where she spent much of her "playtime" in the kitchen. She traveled to Canada to study Nutritional Sciences at the University of British Columbia, and was later trained as a chef at Le Cordon Bleu culinary school in San Francisco.
After working in both Western and Thai professional kitchens, she decided that her passion really lies in educating and empowering others to cook at home via YouTube videos, her cookbook, and cooking classes. She currently lives in Vancouver, and goes to Thailand every year to visit her family. Visit her at