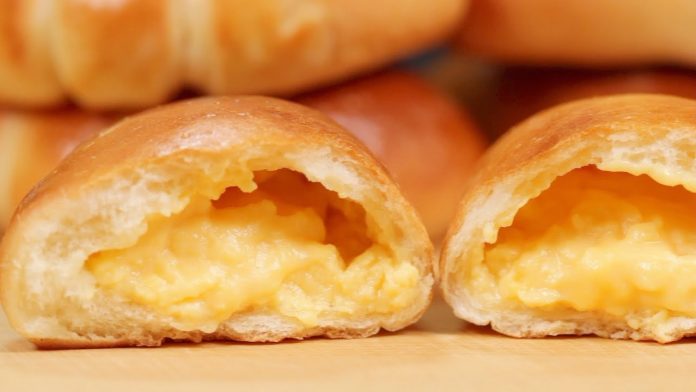 We are making Cream Pan filled with a generous amount of pastry cream. This bread has been popular in Japan since I was a child. The cream is melting and the bread is fluffy! You will be impressed with the deliciously fresh baked cream pan.
How to Make Cream Pan
(8 pieces)
– Bread Dough –
140g Bread Flour (4.9 oz)
60g Cake Flour (2.1 oz)
20g Butter (0.7 oz)
20g Sugar (0.7 oz)
8g Non-Fat Dry Milk Powder (0.3 oz), if unavailable, substitute 110ml milk for 100ml water.
3g Salt (0.1 oz)
25g Beaten Egg (0.9 oz)
100ml Water, use lukewarm water in winter (3.4 fl oz)
3g Instant Dry Yeast (0.1 oz)
Beaten Egg, for glazing
– Pastry Cream 320g/11.3 oz –
3 Egg Yolks, approx. 50g/1.8 oz
55g Granulated Sugar (2 oz)
8g Cake Flour (0.3 oz)
8g Corn Starch (0.3 oz)
250ml Milk (1.06 cups)
A dash of Imitation Vanilla Extract, or 1 tsp vanilla extract
We would appreciate it if you could add subtitles to this video! Thank you for your support!
Order Francis T-shirts and Apron!
Order Francis Bento Box, Bento Bag, and Chopsticks!
You might also enjoy …
Melonpan
Chocolate Cornets
子供の頃から馴染みのあるカスタードクリームのたっぷり入ったクリームパンを作ります。クリームトロトロ生地はふわふわ。焼きたての美味しさに感動しますよ。
クリームパンの作り方
<材料>8個分
[パン生地]
強力粉:140g
薄力粉:60g
バター:20g
砂糖:20g
スキムミルク:8g(ない場合は水100mlの代わりに牛乳110mlを使用してください)
塩:3g
溶き卵:25g
水:100ml(冬はぬるま湯)
インスタントドライイースト:3g
照り用溶き卵
[カスタードクリーム]できあがり約320g
卵黄:3個(約50g)
グラニュー糖:55g
薄力粉:8g
コーンスターチ:8g
牛乳:250ml
バニラオイル:数滴(またはバニラエクストラクト小さじ1)
字幕表示可 ※このビデオに他の言語で字幕を追加していただけるととても助かります! いつも応援していただき本当にありがとうございます!
フランシスのTシャツとエプロンを注文!
フランシスのお弁当箱、巾着袋、お箸セットを注文!
こちらもオススメです♪
メロンパン
チョコレートコルネ
Music courtesy of Audio Network