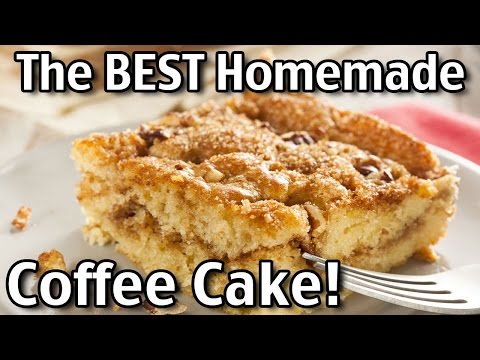 Subscribe to Living On A Dime on YouTube!
Visit Our Website:
Free e-Mail Newsletter:
The BEST Homemade Coffee Cake!
In today's show, we'll be making a wonderful homemade coffee cake recipe from scratch. This easy cinnamon coffee cake is a staple in our house. It's so popular, it's usually gone in about 30 minutes, so I usually make a double batch so that we can snack on some later. Join us today and see how easy it is!
The BEST Homemade Coffee Cake Recipe
Elly's Ireland Trip Vee-log Day 0
Find all of our books, including our Dining On a Dime cookbook here:
Homestyle Dinners
Get my How To Make Soap For Beginners e-Course here:
My Homemade Soap Channel – How to Make Soap On A Dime
BanDana Gramma's Channel
For More Easy Ideas, Visit Our Website:
**********************
The equipment we use for our videos
The camera: for recipes:
for on the go shots:
for Live videos:
The lights:
Wirecast software for live production:
The editing software:
The computer:
For Audio:
Please note some of these links are affiliate links and we use them to help support this site so we can then pay our bills!!! Thanks for supporting us! 🙂
________________________
OUR FREE NEWSLETTER!
SUBSCRIBE TO OUR YOUTUBE CHANNEL!
OUR FACEBOOK!
OUR PINTEREST!
#homemadecoffeecake
#homemadecoffeecrumbcake
#homemadecinnamoncoffeecake
#coffeecakerecipe
#coffeecake
#besteasycoffeecake
#easycoffeecrumbcake
#easycoffeecake
#quickeasycoffeecake
#bestcoffeecrumbcake
#easycoffeecrumbcake
#homemadecrumbcake