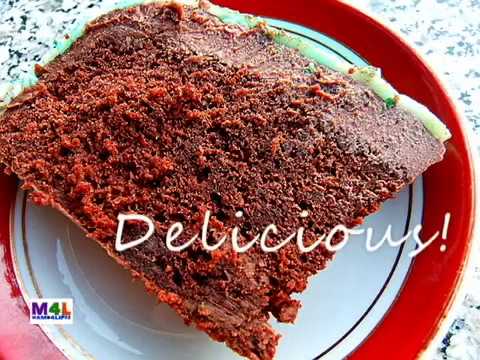 I am not sure what is the English name of this cake, but the easiest way to describe is, is with the word "moist".
The traditional name for this cake is Hola Kocke, a Croatian name, and recipe. The word "Hola" is the name of the sweet cream brand originally used in the recipe and the word "kocke" means dice (squares).
My kids tried this cake the first time at a birthday party and right away it became their favorite. I usually have trouble finding a good cake recipe that my kids like, but this one is truly a winner. There is nothing better than a moist chocolate cake with a creamy frosting.
Here is the recipe for in case you have a difficult time to follow the video. Keep in mind that I may have adjusted the recipe a little to my taste.
Beat together:
– 6 egg whites until stiff peaks
Mix together:
– 6 spoons of flour
– 8 spoons of sugar
– 15 grams of baking powder
– 100 ml of vegetable oil
– 100 ml of milk
– 6 egg yolks
Third step:
– Fold the egg whites in with the second mixture.
– DO NOT use an electric mixer.
– Blend the two mixtures well with a spoon instead.
Bake:
– Bake the cake at 180 degrees Celsius.
– After 30 minutes, do a toothpick test to see if the cake is done.
Boil together:
– 250 grams of cooking chocolate
– 500ml sweet cream
Finish:
– For chocolate squares:
Bake the cake in a flat pan and pour the hot chocolate-cream mixture over the baked cake.
– For a traditional round cake:
Bake the cake in a round pan. Let the chocolate-cream mixture set in the fridge. Once the mixture is set like a frosting you can spread or pipe it on the cake.
Feel free to ask any questions if you have, I am always happy to reply.
If you like my videos, give me a thumbs up or hit the subscribe and bell-button for more.
Sharing is caring – sounds cliche, I know – but please do, if you care! 🙂
Instagram:
Facebook:
New Blog: