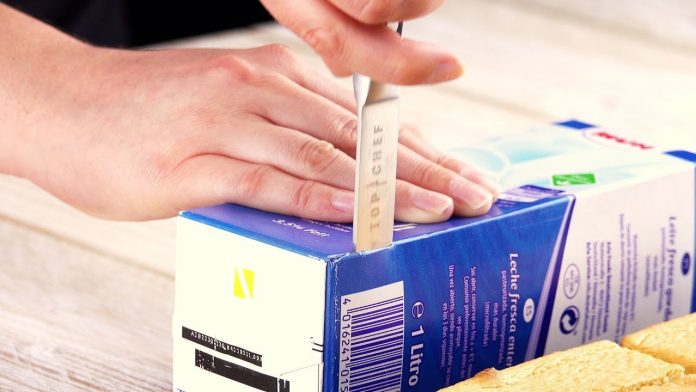 Here's how to make our wonderful Tiramisu Ice Cream Cake. Don't forget to subscribe to our channel!
You'll need:
– 3½ fl oz espresso
– 4¼ oz vanilla ice cream
– 8 oz cream cheese
– 1¾ oz walnuts
– 3½ oz chocolate, melted
– 4¼ oz whipped cream
– cocoa powder
For the sponge mix:
– 2 eggs
– 1½ oz sugar
– 1½ oz flour
– 2 tsp cornstarch
– 1 pinch baking powder
You'll also need:
– one empty milk carton (1 quart)
Here's how:
1. First, prepare the sponge mix by whisking the eggs with the sugar until they're foamy and white. Next, add the flour, cornstarch and baking powder, carefully folding everything into the egg and sugar mix.
2. Spread out the sponge mix on a baking tray and bake it at 360°F in a convection oven for 10 minutes. Once cooled, cut the sponge into four equally-sized pieces that will form the base of the ice cream cake. These pieces of sponge should be placed inside the milk carton that has been prepared as seen in the video.
3. Brush some espresso onto the first layer of sponge in the carton. Next, mix together the vanilla ice cream and cream cheese before spreading it on top of the sponge layer.
4. Sprinkle half of the walnuts on top of the ice cream. Next, add some melted chocolate and whipped cream.
5. Now it's time to add another layer on top of the cream. Just as before, you start with a layer of sponge before adding the espresso, ice cream, walnuts, melted chocolate, and cream.
6. Next, place the Tiramisu Ice Cream Cake in the freezer for three hours. For the finishing touch, sprinkle on some cocoa powder before serving.
Full article here: