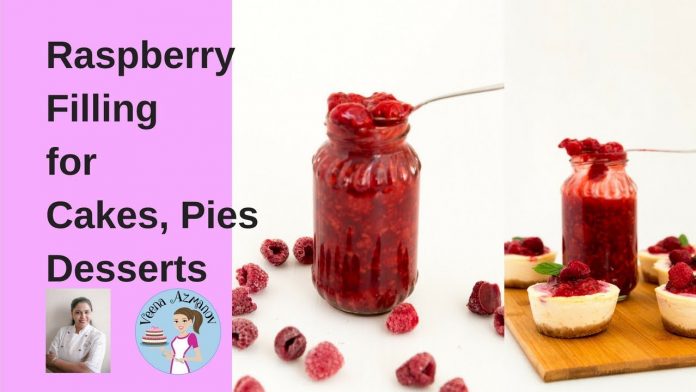 This raspberry filling is the ultimate topping over desserts. Fill it in cakes between layers or pour into a baked shortcrust pastry tart over delicious pastry cream for a quick dessert. This simple, easy and effortless recipe for the ultimate raspberry filling makes perfect breakfast when served with pancakes or waffles too.
Get the Recipe –
Pin this recipe –
My name is Veena and I am the face behind the blog www.veenaazmanov.com
You probably also know my blogs by their former names Veena's Art of Cakes and A Homemade Chef which I have now combined into my name blog Veena Azmanov.
I CAKE & COOK –
I DECORATE & TEACH CAKE DECORATING PROFESSIONALLY & I LOVE FOOD
SO I BLOG ALL ABOUT CAKE & COOK
RECIPES, MEALS, DESSERTS, BUSINESS TIPS, BLOGGING TIPS,
HOW TO START A BLOG +HOW TO MAKE MONEY ONLINE
JUST BY SHARING YOUR PASSION AND MORE..
Don't forget to Subscribe to my channel – I upload ONE NEW video a week – Thanks you
Join my newsletter to get access to all my FREE resources and more –
You can also find me on..
Blog homepage – www.veenaazmanov.com
Blog Post – -…
Facebook – …
Instagram –
Pinterest –
Twitter –