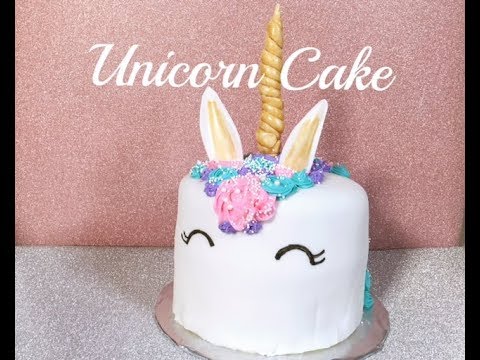 UNICORN CAKE – COURTNEY'S CAKES
INSTAGRAM:
TWITTER:
Red Velvet Recipe
Cream together.
-1 1/2 cups sugar
-1 1/2 cups of Crisco oil
-2 eggs added separately
Mix in a cup
-1 tsp cocoa powder
-1 tsp vinager
– 2 tsp red food coloring
Sift
-2 1/2 cups plain flour
-1 tsp baking soda
-1 tsp salt
Sifted mixture should be in bowl by itself. Rotate adding sifted flour mixture and the 1 cup of buttermilk. Beat mixture until its completely combined. Divide batter between three 6 in round pans.
Preheat over to 350 degrees and bake 30 to 35 minutes. or until toothpick comes out clean
Cream Cheese Icing Recipe
-1 8oz cream cheese (room temperature)
-1 stick of butter (room temperature)
-1 cup powdered sugar
-1 tsp vanilla extract
Cream together the butter and cream cheese. Add the vanilla extract then the powdered sugar.
OTHER THINGS NEEDED:
-WOODEN DOWEL
-ONE PACKAGE WHITE FONDANT
-BLACK EDITABLE PEN
-WHITE EDITABLE PEARLS
-GEL FOOD COLORING TEAL, PINK, PURPLE
-GOLD LUSTER DUST
-PAINT BRUSH