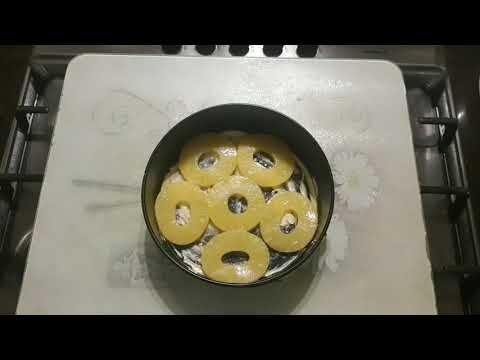 Recipe
Ingredients
6 pineapple rings
125 gr self raising flour
100 gr soft butter
2 tsp butter
2 tsp sugar
100 gr castor sugar
1 tsp vanilla essence
half tsp bicarb
3 eggs
Method
Grease baking dish with 2 tsp butter. Sprinkle 2 tsp sugar. Lay pineapple out and add cranberries or cherries. Leave aside.
In food processor:
Add butter, sugar, vanilla essence, eggs and mix well.
Add flour, bicarb, 3 tsp pineapple juice. Mix well.
Gently pour on top of pineapple baking dish.
Bake in preheated oven for 30 minutes on 180 degrees.
After baking, remove and leave to cool. Invert cake and it will slide off. Serve with vanilla ice – cream.
Enjoy