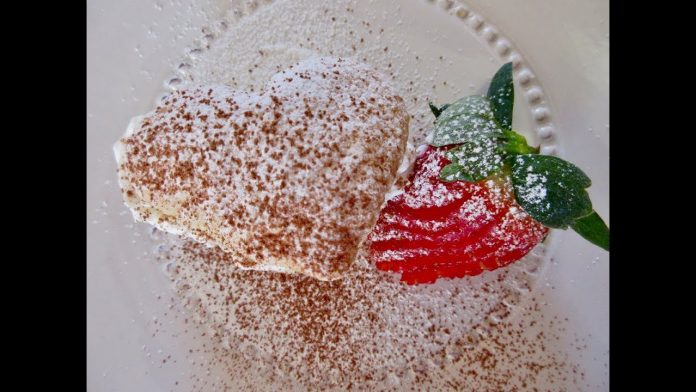 PUFF PASTRY HEART DESSERTS are a perfect way to say, "Happy Valentine's Day!! Freshly baked heart-shaped pastries filled with homemade vanilla whipped cream, strawberries, and a dusting of powdered sugar, and/or cocoa powder!! Simple & Easy!! Recipe below…
PUFF PASTRY DESSERT
Makes 18 (3″ by 3″) Heart-Shaped Desserts
1 (1.1 LBS.) Box of Puff Pastry
1 cup chilled whipping cream
3 tablespoons powdered sugar, extra for dusting top of baked pastries
1/2 teaspoon pure vanilla extract
2 teaspoons cocoa powder for dusting baked pastries
2-3 cups Strawberries, substitute with blueberries, and/or Raspberries
1. Thaw puff pastry according to package directions. Lightly rollout pastry until smooth.
2. Using a 3″ by 3" heart-shaped cookie cutter (may use a larger or smaller heart-shaped cookie cutter); cut pastry into heart shapes, or into the shapes of your choice.
3. Add to cookie sheet.
4. Bake 20 minutes. Cool completely on wire rack.
5. Add whipping cream, powdered sugar, and vanilla into a large bowl. Beat with an electric hand held mixer or whisk until soft peaks begin to form. Cover and keep chilled in the refrigerator until ready to use.
6. Assemble dessert just before serving.
7. Cut heart-shaped bake pasties in half. Place bottom pastry half on serving plate. Top with 2 tablespoons of prepared chilled homemade vanilla whipped cream. Top with other pastry half. Add fruit. Dust with powdered sugar, and/or cocoa powder.
~~~ENJOY your PUFF PASTRY DESSERT~~~
JOIN ME ON…
Instagram:
Pinterest:
Twitter:
Deronda's channel offers many different foods that are easy and simple to make, yet delicious to eat…Appetizers, Main Dishes, Desserts, Snacks, Breads, Tips, and much more from start to finish!! An inspirational channel for the CHEF in all of us.
Made with LOVE 🙂
Music by…Kevin MacLeon ()