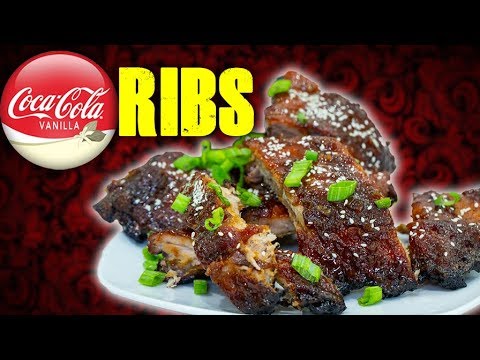 Let Ameer teach you how to make these delicious Vanilla Coke Ribs! They are succulent and mouth-wateringly delicious!
Ingredients
Sauce
3 Tbsp's Hoisin sauce
6 Tbsp's Vanilla coke
1 Tbsp Honey
1 Tbsp Soy sauce
1 Tbsp Minced garlic
1/3 Cup minced shalot
1 Tbsp ginger
1 Tsp Cayenne pepper
1/3 Cup sugar
1 Rack of pork back ribs
Salt and pepper
3 Tbsp's of garlic powder
3 Tbsp's of onion powder
2 Tbsp's of paprika
1/2 Cup of green onion
1/3 Cup of sesame seeds
Step 1
Mix together 3 Tbsp's of garlic powder, 3 Tbsp's of onion powder, 2 Tbsp's paprika, salt and pepper then rub on rack of ribs and bake in the oven at 350 degrees fahrenhiet for 1 one hour.
Step 2
In a mixing bowl add 3 Tbsp's Hoisin sauce, 6 Tbsp's Vanilla coke, 1 Tbsp Honey, 1 Tbsp Soy sauce, 1 Tbsp Minced garlic, 1/3 Cup minced shalot, 1 Tbsp ginger and 1 Tsp Cayenne pepper then mix well and set aside.
Step 3
In a small sauce add 1/3 cup of sugar and cook until the sugar is melted and begins to caramelize. Add Hoisin mixture to the sauce pan and continue to cook on a low heat until sauce thickens for 6 to 8 minutes then let cool to room temperature.
Step 4
Warm BBQ on low heat then place the ribs on the grill and brush on BBQ sauce and cook ribs for 10 minutes. After 10 minutes brush on more sauce and continue to cook for an additional 10 minutes then remove from grill.
Step 5
Garnish ribs with green onion and sesame seeds then serve.
Check out our new Jerky available in Walmart across the USA!
Check out Harley's Video Diaries –
We have a YouTubeGaming Channel:
Follow the guys!
@harleyplays @chefatari @epicgrossguy @cooldan @itsmikesantos
LIKE/FAVORITE and SHARE for new meals every week!
Vanilla Coke Ribs – Handle It