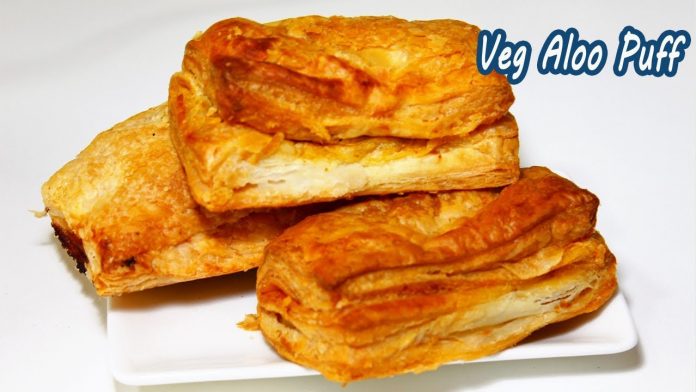 Please take a moment to like and subscribe
✿◕ ‿ ◕✿
Subscribe to my Other channels
MadhurasRecipe Marathi
MadhuraRecipe Style
MadhuraRecipe Quick
Join us on Facebook
Website URL –
For Business inquiries please email us on madhurasrecipe@gmail.com
Madhurasrecipe facebook group link –
Introduction
Veg aloo puff is a very easy recipe if you have puff pastry ready at hand. This is flaky and has many layers. It is stuffed with savoury potato filling and tastes just yummy. Do try this recipe art home and drop a comment for me. You also can like, share and subscribe.
Ingredient list
• 2 tbsp Oil
• 1/2 tsp Cumin seeds
• 1 cup finely chopped Onion
• 1 tsp Ginger-Garlic paste
• 1 tsp Coriander powder
• 1 tsp Garam masala
• 1 tsp Red chili powder
• 1/4 tsp Turmeric powder
• 1 large cooked, peeled, mashed Potato
• 1/2 tsp Chat masala
• Salt to taste
• Finely chopped Coriander leaves
• Puffed pastry
Method
• Heat up oil in a pan.
• Add cumin seeds and let them splutter.
• Add onion and mix well.
• Fry until onion is nice and soft for about 4-5 minutes.
• Add ginger-garlic paste, coriander powder, garam masala, red
chili powder, turmeric powder and mix well.
• Cook for just about a minute.
• Add green peas, mashed potato, chat masala, salt to taste and
mix well.
• Cover and cook on medium heat for about 4-5 minutes.
• Open the lid and add coriander leaves.
• Turn off the gas and mix well.
• Stuffing for veg aloo puff is already.
• Take the puffed pastry.
• If you think it is a little thick then roll it with a rolling pin.
• The pastry should have about 1/2 cm thickness. It should neither
be too thick nor too thin.
• Cut the pastry in half and fill the aloo stuffing in the center of the
pastry.
• Brush the sides of the puff really good with water.
• Fold the pastry and seal the edges well.
• Make sure to seal the edges well as the puff bakes the layer pop
up and filling may come out.
• Preheat the oven at 400 Deg F.
• You can bake these puffs in pressure cooker too as we bake the
cake.
• Line up a tray with aluminium foil and transfer stuffed puffs in it.
• Brush some butter on the puff.
• You can brush egg wash too in place of butter.
• Bake the puffs on 400 Deg F for about 20-25 minutes.
• Veg puffs are already.
Tips:
• You can make about 6 nice size veg puffs from 3 cups maida and
150 gm butter.
• I have used frozen peas. If you are using fresh peas then add
them with onion and cook.
Please take a moment to like and subscribe
✿◕ ‿ ◕✿
For more Such Recipes
Puff Pastry Dough Recipe | How to make Puff Pastry | Puff Pastry Recipe | MadhurasRecipe | Ep – 642
Veg Puffs ( without using Puff Pastry!)
Eggless Chocolate Coffe cake | Eggless Cake without oven | MadhurasRecipe | Ep – 639
Chocolate Truffle Cake | Eggless Chocolate Dessert Recipe | Madhurasrecipe
Pineapple Pastry (Microwave Eggless Sponge Cake)
Eggless Loaf Cake | No Egg no Butter | Tea Time Snack | MadhurasRecipe
Eggless Suji Cake | No All Purpose Flour Cake | Cake without Oven | MadhurasRecipe
How to make Eggless Chocolate Cake in Pressure Cooker (Cooker Cake) (No oven cake)
Black Forest Cake
Black Forest Cake
Eggless Marble Cake in Pressure Cooker | Swirled Marble Tea Time Cake | MadhurasRecipe