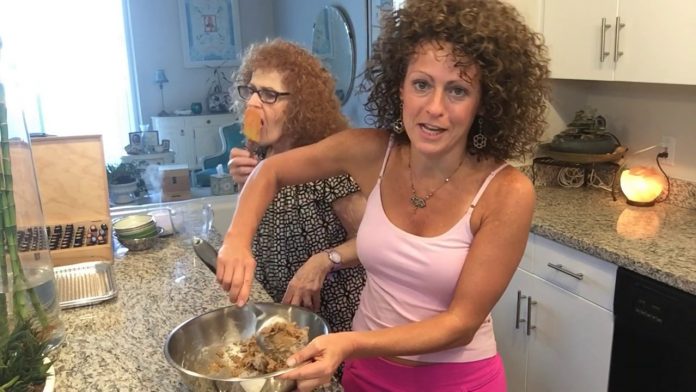 Join us for Episode 1 of Be Your Own Wow Factor: Kitchen Prep Show!
Three all-time dessert favorites wrapped up in one yummy vegan recipe!!
Vegan Chocolate Chip Cookies
NOTE: (This is the triple batch recipe: yields 42 cookies. Reduce accordingly for smaller quantities.)
INGREDIENTS:
3 cups oat flour
1 1/2 tsp baking soda
3/4 tsp salt
3/4 cup coconut sugar  3/4 cup maple syrup
1 cup chocolate chips
6 tbsp milk of choice (We used coconut milk.)
6 tbsp oil
3/4 tsp pure vanilla extract  
INSTRUCTIONS:
Mix all ingredients at room temperature until you reach a cookie dough like consistency.
– Place individual cookie sized balls (domes if using baller) on cookie sheet or into custom molds.
– Add to oven that has been heated to 325º for 11-13 minutes.
– Remove from oven and place on cooling rack.
– Serve with love and a smile!
Vegan Vanilla Ice Cream Recipe
INGREDIENTS:
2 cups roasted unsalted cashews
2 cups unsweetened vanilla almond milk
1/2 cup 100% pure maple syrup
3/4 tsp Vanilla Extract
Pinch Sea Salt
INSTRUCTIONS:
– Place cashews in high speed blender with all other ingredients and blend until smooth.
– Pour mix into ice cream maker and churn until soft serve ice cream forms about 20 min.
– Pour ice cream into container/mold and continue to freeze until firm about 4 hours or overnight.
– For easier serving, allow ice cream to soften for 5-10 minutes on the counter before scooping!
– Serve with LOVE!
Note: To make the ice cream cake layers like I do in the video, just gently place the cookie crumbles on top of the first layer once in the container, then freeze for about an hour before placing the 2nd layer of ice cream on top.
I added chocolate dust on the top layer once it froze. To make 'dust" pulse chocolate chips in Nutribullet then sprinkle on top as desired and when plating!
Vegan Chocolate Ice Cream Recipe
INGREDIENTS:
2 cups raw unsalted cashews
2 cups unsweetened vanilla almond milk
1/2 cup 100% pure maple syrup
6 tbsp Cacao Powder
3/4 tsp Almond Extract
Pinch Sea Salt
INSTRUCTIONS:
Prepare same as above.
To get more GUT LOVING RECIPES like this one that rev up your radiance and allow you to BE YOUR OWN WOW FACTOR, connect with me here!
…and I'll send you a free gift of my TOP TEN GUT LOVING TIPS so you can improve your energy & have astounding physical health, improve your mood and mindset, and age in reverse!