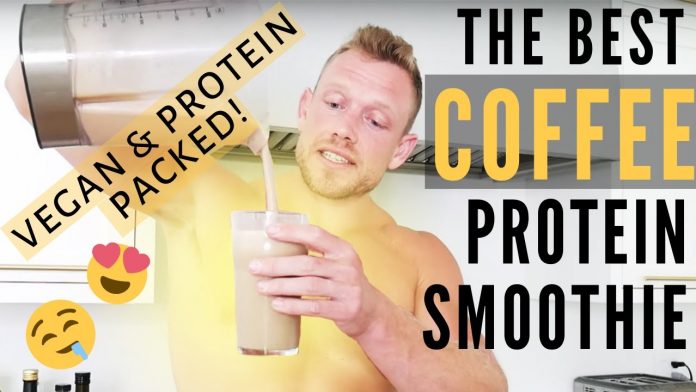 FOR FREE MEAL PLAN CLICK LINK BELOW!!!
Now, this COFFEE PROTEIN SHAKE is incredible for a few reasons. Firstly, it is PACKED FULL OF PROTEIN which is vital to allow our muscles to repair, recover and regenerate. Secondly, it is also PACKED with CAFFEINE which will give us that morning or afternoon pick up we need to stay energized and alert. And thirdly, it is a SUPER EASY and QUICK coffee protein smoothie that EVERYONE will love because it is just SO TASTY.
Give this recipe a go and TAG ME on instagram at @leansquad if you make it. I want to know how you loved this protein smoothie recipe!!!
LEAN NOTE: I made this a VEGAN COFFEE PROTEIN SMOOTHIE but you can easily use traditional WHEY in place of the Vegan protein powder I used. I having been using more plant based protein powder to reduce my consumption of animal based products. However, you do not NEED to and it will taste equally as good if you use a whey or animal based isolate protein powder.
LEANGREDIENTS YOU WILL NEED:
– frozen banana
– Unsweetened almond milk
– espresso or coffee
– Vegan or Whey Protein Powder
– Ice
Again, if you make this COFEE PROTEIN SHAKE make sure you TAG ME on instagram. Every time you post about the leansquad and your healthy recipes, you are inspiring those around you to follow in your foot steps! Let's spread the leanness Squadies!!!
Learn more about the #90dayleanplan and how a custom meal plan and workouts can help you get fitter, healthier and leaner than ever before by visiting www.lean-squad.com.
Phil Mackenzie on…
Instagram:
Twitter:
Facebook: