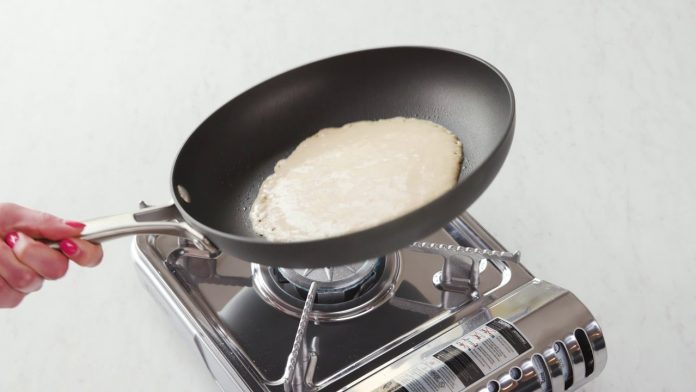 Celebrate spring with this beautiful, delicious, on-trend crepe cake recipe. Made with garbanzo bean flour, nut milk, maple syrup, strawberries and lemon, these crepes are a lovely vegan option for dessert or brunch. The presentation is sure to "wow" your guests, too!
INGREDIENTS
Crepes:
2 cups unsweetened nut milk
1 Tbs pure maple syrup
1 tsp vanilla extract
1/2 tsp kosher salt
1/2 tsp ground cinnamon
2 cups garbanzo bean flour
Strawberry Hummus:
1, 15-oz can garbanzo beans, drained and rinsed
1 lb sliced strawberries (rinsed, tops removed and cut in half)
juice of 1 lemon
2 Tbs almond butter
1 Tbs pure maple syrup
1 tsp vanilla extract
1/4 tsp kosher salt
DIRECTIONS
1. In a blender, combine nut milk, maple syrup, vanilla, salt, cinnamon and garbanzo flour. Turn on high and blend for 1 minute. Let rest 1 hour on counter.
2. Preheat a non-stick 10-inch sauté pan on medium to medium-high heat. Spray with non-stick cooking spray.
3. Pour 1/3 cup batter into pan and spread evenly and thinly. Let cook about 1 minute or until edges of crepe are lightly browned and the center is firm. Flip and cook additional 30-60 seconds until lightly browned. Repeat until all batter is used.
4. Add garbanzo beans to a food processor and pulse 4 times. Add remaining ingredients and blend until smooth.
5. To assemble cake, place a layer of hummus on a crepe. Top with another crepe and repeat until all crepes are used. Place in refrigerator for at least 2-4 hours to set (up to overnight). If refrigerating overnight, cover with plastic wrap. Remove and garnish, if desired. Cut into wedges and serve.
Full Recipe:
For more, follow us and subscribe!
YouTube: …
Pinterest: 
Instagram:  
Twitter:  
Facebook: