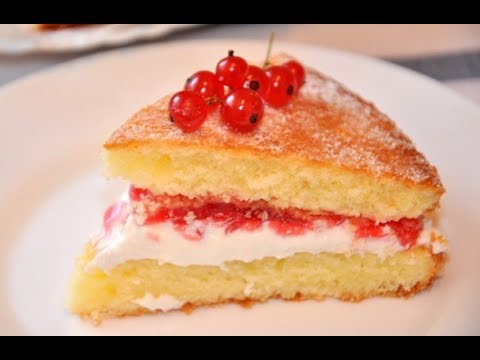 Easy recipe for Victoria cake. This cake recipe will appeal to all lovers of vanilla cakes, because this is a very easy recipe. A homemade cake can be cooking for the birthday.
Subsrcibe►
Please put likes and write comments!
#cakes #dessert #cooking #recipes #Homemade
Follow us:
Facebook
Twitter
Pinterest
Tumbrl
Recipe source:
Recommended recipes:
FISH shish KEBABS with VEGETABLES
Fast PIZZA with PEPPER
PIE with CURD FILLING
TURKEY Rolls
Banana in chocolate
Ingredients:
Butter – 175 g
Sugar – 175 g
Eggs – 175 g (3 pcs.)
Flour – 175 g
Baking Powder – 1/2 tsp.
Milk – 2 tbsp. L.
Vanilla extract or sugar – 1 tsp.
Cream 33-35% – 200-250 g
Raspberry jam – for interlayer
Powdered sugar for sprinkling
Cooking:
Combine the creamy butter with sugar and vanilla sugar until fluffy (about 5 minutes).
Beat the eggs and add to the oil mixture. Add the sifted flour, milk, knead the dough.
The dough is divided into 2 parts, bake 2 cakes (at 180 C for 20 minutes).
Cream to shake. If you want more sweet, add sugar. Spread one biscuit.
Sponge cake with cream and gently combine with the second biscuit.
Sprinkle with powdered sugar.
Decorate with berries.
Bon Appetit!
We have collected for you the best recipes of burgers, cheesecakes, cakes and others. Here you will find the best recipes with shrimp, eggs, chicken, turkey and meat. These recipes can be used for breakfasts, lunches and dinners. They are very easy to cooking , because we have collected very easy recipes for you.