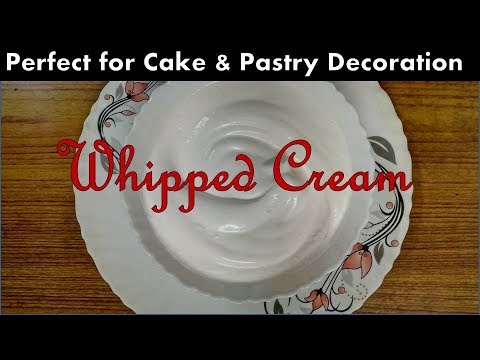 WHIPPED CREAM RECIPE FOR CAKE AND PASTRY DECORATION IN HINDI BY PREMLATA'S KITCHEN EPISODE 69
Ingredients –
250 gram Amul Fresh Cream,
2 Table spoon Powdered sugar,
Vanilla Essence,
1 Tray Ice Cube,
Hand Mixer
Two bowls which can be easily placed in each other
Procedure
1. Place the Ice Cubes in bigger Size Bowl and place the smaller size Bowl over it.
2. Pour the Amul Fresh Cream in Smaller Bowl.
3. For 30 seconds, Mix the Cream with the Mixer / Grinder.
4. Now Mix the Powered Sugar and 4-5 drops of Vanilla Essence and Grind till the Cream becomes thick for 7-8 mins.
5. After 4-5 Mins, Increase the speed of Mixer to make Cream more thicker.
6. Cream is Ready to use when its volume become double.
7. Pour the Cream in Bowl. To test it, the cream should not easlly fall from spoon.
8. Use the Cream for decoration of Cake by using Cone or Icing syringe.